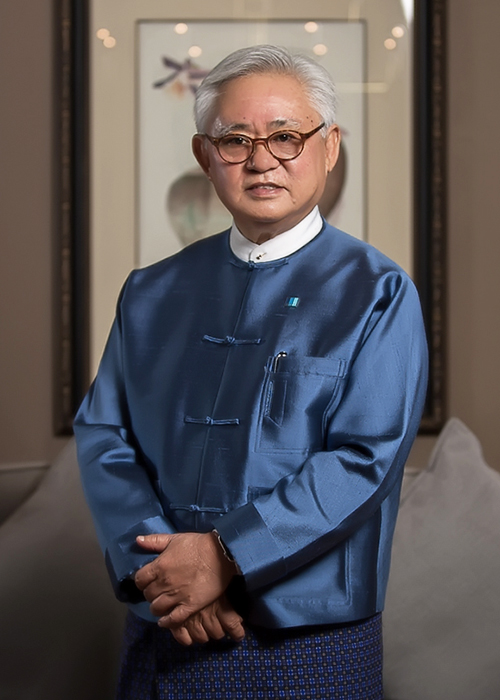 Dear Shareholders,
FY2018 has been another eventful year. In 2014 we announced our 2020 vision – to have at least 50% of revenue generated by our Non-Real Estate businesses and to increase our recurring Real Estate revenue. I am very happy to report that in FY2018, we achieved this goal and are ready to move on to our next phase of growth.
As part of our efforts to reward shareholders, we have also declared a final cash dividend of 0.25 Singapore cents per ordinary share in FY2018.
Building Four Growth Engines
Since day one, the Group has always been focused on businesses that are scalable, where we can not only build a leadership position, but also make a meaningful difference to the sector. This strategy requires a certain degree of clarity and focus and, in line with this strategy, we have recently announced the addition of our fourth core business, Yoma Financial Services. We will be growing each core business to create a sustainable growth engine for the Company. Our four core businesses, namely Yoma Land, Yoma F&B, Yoma Motors and now, Yoma Financial Services, have interwoven synergies and are led by talented management teams. All four core business pillars address key needs in the market, serving domestic consumers, tied to the fast-growing Myanmar economy.
Recently, we unveiled the new branding of Yoma Land, and will be doing the same for all of our core businesses progressively. Creating a brand identity for each business division helps to create a degree of autonomy and allows us to build up the capabilities of that division in a focused manner, so that we can embark on a path towards leadership and a dominant position in their respective sectors. We believe that this strategy will ultimately allow us to better serve all of our stakeholders, including our shareholders and the people of Myanmar.
Growing our four core businesses in a sustainable manner forces us to take stock of available resources. Where appropriate, we will consider spinning them off, just as we have done with our tourism assets via a reverse takeover. As of 5 January 2018, our tourism assets are officially listed as part of Memories Group Limited ("Memories Group") on the Catalist Board of the Singapore Exchange Securities Trading Limited (SGX). The listing of Memories Group is an example of us unlocking and realising the hidden potential of our businesses and investments.
Promising Developments
Myanmar's economy is expected to continue to grow with the implementation of the Condominium Law and other probusiness legislation. Furthermore, infrastructural projects such as the National Electrification Plan, Kyauk Phyu SEZ in Rakhine State, Dawei SEZ in Thanintharyi Region, New Yangon City Development ("NYCD") and the Yangon Elevated Expressway, to name a few, will support this growth.
On 1 August 2018, the new Myanmar Companies Act, 2017 will come into effect. The new law will change the way companies are regulated, modernise company formation and management, and significantly revise corporate governance in Myanmar by bringing company legislation on par with international standards. The Act offers a wide range of regulatory changes, such as allowing foreign investors to hold up to 35% of the shares in a domestic company without it losing its classification as a "local company" and to trade in shares on the Yangon Stock Exchange. 1
Additionally, The Ministry of Commerce's Notification 25/2018, which was announced on 9 May 2018 and effective immediately, largely allows 100% foreign owned, as well as foreign and local, joint-ventures to carry out wholesale and retail trading throughout Myanmar. This significant trade liberalisation will open up greater foreign investment activities as foreign companies can now engage in wholesale and retail trading with a minimum initial investment of US$5 million in goods for wholesale and US$3 million in goods for retail. 2
In the agriculture sector, the ADB has developed a Country Partnership Strategy (2017–2021) to support sustainable inclusive growth. This five-year strategy will prioritise three key sectors: agriculture and irrigation, rural infrastructure development and private sector initiatives. The Myanmar government has also drafted a five-year Agriculture Development Strategy (ADS) investment plan to enhance the capacity of the government to design, create and implement policies and plans; to increase agricultural productivity and income of smallholder farmers; and to enhance market linkages and the competitiveness of Myanmar farmers and agro-enterprises.3 This plan would attract more investment flows into the country, create more jobs, especially in the rural areas, and support Myanmar's growth and development as a nation.
For the Group, these developments would mean more opportunities to address market gaps and needs, while at the same time working with more international brands and multi-national corporations. We continue to feel honoured to be part of these exciting opportunities, such as our recent partnership with IFC, with the support of the Government of Canada, and Norfund in Yoma Micro Power.4 Yoma Micro Power generates and distributes electricity using solar-based micro power plants and mini-grids to power telecommunications towers in rural Myanmar as well as to the surrounding off-grid communities.
Valued and Strong Partnerships
Yoma Strategic continues to stand out as the partner of choice for international businesses and institutions to enter the Myanmar market. Over the years, we have worked with many distinguished international organisations and renowned brands in many different sectors. Our reputation as a good and trustworthy business partner is something that we continue to guard zealously.
Throughout the course of FY2018, we have progressively brought numerous top international brands, such as Ducati, Pernod Ricard, and most recently, Little Sheep, an international hot pot brand, to Myanmar. These partnerships did not just happen by chance, but are based on the trust that has been established between ourselves and our partners.
They are the result of long-term planning and months, and even years, of patient negotiations and discussions with our partners in order to progress the deals and achieve the goals which we have set for ourselves. We look forward to bringing more international brands to Myanmar in the coming financial year and beyond.
Steadily Moving Forward
Yoma Strategic has prepared itself for the exciting developments forecasted for Myanmar's economy in the coming years by building up a strong talent base. This includes management rigour in decision-making, problem solving and marketing. We are able to do this by bringing in experienced managers to lead and grow our core businesses while at the same time helping us to groom local management capacity. I am proud to say that our local team is coming along nicely and have ably taken over more responsibilities over the past year.
We also see it as very important to keep our shareholders informed as part of good corporate governance and transparency. We will continue to host our shareholders trips to Myanmar, which allow shareholders to experience the growth and development of the country and their company. Not only does this give us an opportunity to showcase our latest projects, but it is also an opportunity for shareholders to gain first-hand knowledge of the challenges that we face in operating in an emerging economy. We are planning a shareholders trip to Yangon later this year. The details will be shared on the Yoma Strategic's website, and I look forward to meeting you in Myanmar and hearing your views.
Last but not least, I would like to express my sincere appreciation to our Board of Directors for their guidance and leadership and to our management team and staff for their diligent work and resoluteness in growing Yoma Strategic. Not forgetting our business partners, associates and shareholders, whom I sincerely wish to thank for their unfaltering support throughout the years.
Mr. Serge Pun
Executive Chairman
1. https://www.aseanbriefing.com/news/2017/12/11/myanmars-new-companies-law.html
2. http://tractus-asia.com/myanmar-announces-liberalization-trading-foreign-owned-companies-joint-ventures/; subject to compliance with various other restrictions.
3. https://www.ccifrance-myanmar.org/sites/ccifrance-myanmar.org/files/resources-documents/agriculture_guide_2018.pdf
4. Yoma Micro Power (S) Pte. Ltd. through its wholly-owned subsidiary, Yoma Micro Power Myanmar Limited.